Well, here we are again, dealing with the insanity that is Feminist Frequency. Most of you have already watched the episode done on this: XxFirermahgerdden the Rezerkening 420YOLOSWAG Chat 43.69xX: OVER 9000 BODY TYPES! I am going to approach this in ways not approached during the show. First I will be showing five existing examples, spread throughout gaming, of strong female characters of various body types, explaining what had to be done to make these women work. Then, finally, I will give something constantly ignored out of convenience to the narrative. Also, I'm doing all of this considering the fact that my wife is a bigger woman as well, though to be fair she also despises the patronizing body positivity movement and tries to lose weight herself.
Let's hammer this in.
To begin, Anita is exceedingly disingenuous by openly admitting she has cherry-picked fast-paced battle-based genres for her demonstrations. This cuts out RPGs, Sandboxes, puzzlers, and other narrative based adventures which have shown an extravagant amount of body types over the years, all because she is jealous of fit fighters. Even then, your basic MOBA (one of the things she specifies via DOTA2 and League of Legends) typically have upwards to 80 different individual characters! Chances are one of them is gonna tickle your fancy. Plus from what I've seen she doesn't even consider the context of the interactions of the character. Most of them aren't pulled in by their own will but by the will of someone above them. But that is beside the point. My point is it didn't take me long to find this example: Lulu the Fae Sorceress.

Notice something here? She isn't slender. Also as she is a fae – also known as faerie, for those who don't follow Gaelic theology like myself, they are capable of breeding with humans. By those standards, she might seem attractive, particularly to those who have a thing for lolita elves. Don't worry, Fae are typically centuries old and still keep their youth so no pedophilia here. Point is that's not a typical body type for a female in games. Also, she is fairly mischievous as fae tend to be… not so much evil as simply chaotic… and notice the 'skins' bit. Those are common in MOBAs so you can customize your champion to your taste. (Source: http://gameinfo.na.leagueoflegends.com/en/game-info/champions/lulu/)
So where do we go next? How about straight up fighters? We'll go to one of my still favorites- Marvel vs. Capcom 2: New Age of Heroes, if only because I still don't like the balancing on 3. Now MvC2 has about 53 characters to choose from, not counting duplicates (Wolverine). One character you could confuse for a young boy is that of SonSon, the granddaughter of  the male character from an early Capcom platformer that never really caught on, based on Sun Wukong. Oh wait, you might better recognize the Japanese transliteration of that character: Son Gokuu. Thats right, this is a Rule 63 of the DBZ hero in essence, down to the transforming into a giant ape that spits out beam attacks. Now if that's a normal female, that's scary. Full disclosure, SonSon is one of my mains for that game. So now we have to our tally a lolita type and a transforming androgynous type. What's next? (Source: http://marvelvscapcom.wikia.com/wiki/SonSon_III)
How about RPGs? Well, the Suikoden series is always a good place to pull from for multiple character builds. The second game of the series is particularly interesting because we have an example of an extremely muscular woman who is playable. Interestingly enough she is named, Hanna. The way she is designed using PS1 age sprite work is very impressive for starters, and if you look at her character from behind you can not tell any difference between her and a male barbarian character designed in the same era.  She even sports a more masculine face to boot and is a fairly powerful swordswoman.  She also tends to be rather stoic. Funny how these Japanese games keep showing more varied characters than many feminists want to admit. (Source:http://suikoden.wikia.com/wiki/Hanna)
I'm going to do something a little different for this one, I'm going to pull a game I haven't actually played out of the ether that is Steam. With the plethora of games released there, I'm sure I can find an odd body type fairly quickly. Hmmm, what do we have here a few pages in?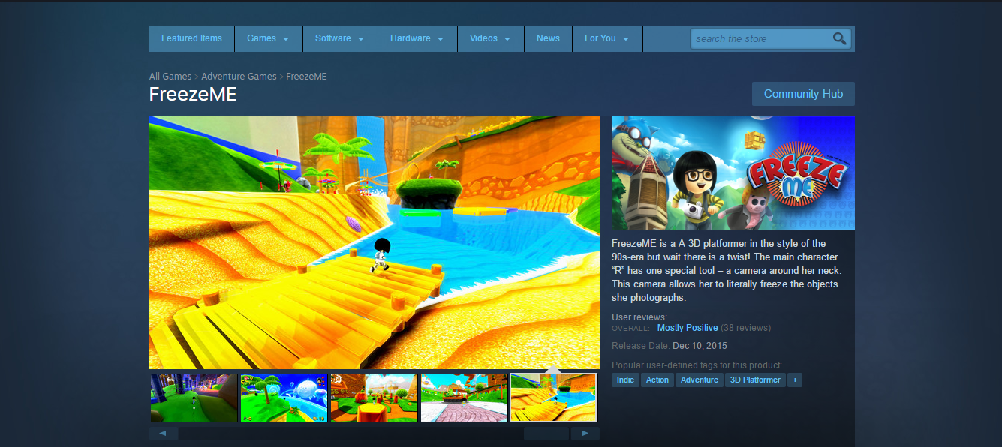 It's an indie title called FreezeME. To be completely honest here, I know nothing about the developer Rainy Night Creations and am not even going to suggest to anyone to buy this game; check on site reviews, look for gameplay footage and make your own judgments. This is purely to find atypical female body types and this 3D platformer has it in their main character known only as "R".  If anything she looks like a typical homely type of girl, not exceedingly fat but not slender either. Just average. Now that being said, I am probably going to check this game out myself because it also seems to have a neat mechanic in freezing aspects of the level using a camera. It looks to me like a legitimately fun game that doesn't beat you in the face about its female protagonist. (Source: http://store.steampowered.com/app/390210/)
Alright, now we are to our fifth example. So where am I going to go for this one? Well to be frank the next one isn't a protagonist or from a game I particularly like. In fact, the developers of this game have hit some shaky ground as of late partially due to their politics and some horrible singing. Gearbox Software's Borderlands 2. Say what one will about Anthony Burch or Randy Pitchford, they did, in fact, create a plus sized female character in the form of Ellie. Now, this may seem like stretching but there is a reason I'm approaching her here, to address the current day mechanics of making a semi-realistic example of a plus sized woman in a video game. Particularly since this example was loosely mentioned in the show on this subject, especially one of Ellie's ample bust size which is done realistically. Yes, such a build does exist in real life and is ironically enough in porn. I'm not going to link to it for obvious reasons but check out a site called boobpedia. You'll find some extreme busts. However, in an interview they did talk about needing to create special animations. This was done prior to the level of motion capture now present in a lot of AAA titles so they needed several lines of specific code just for her presumably 48 K cup breasts. (Source: http://borderlands.wikia.com/wiki/Ellie)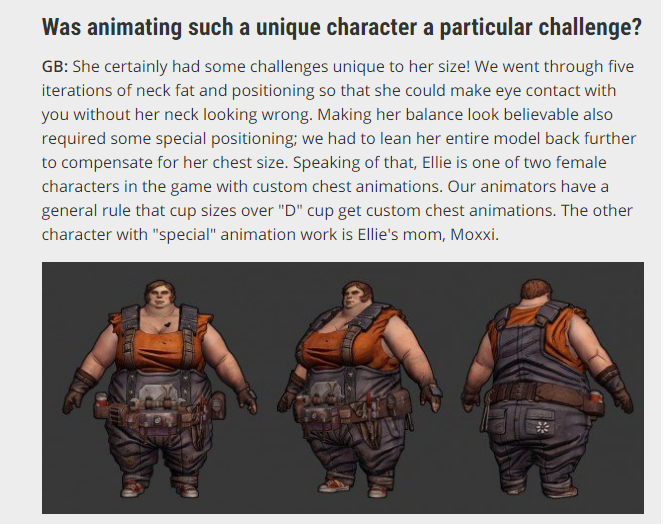 (Source: http://www.pcgamer.com/meet-borderlands-2s-ellie-the-opposite-of-how-most-females-tend-to-be-represented-in-games/)
Now I said I was going to put up something often ignored as well. Well, I think it's obvious to any MMORPG player out there that while a large majority of the cheap free to play ones have a very narrow character creator system. Many big time ones have a very robust character creator. I think the prime examples come once again from the Phantasy Star series.  Starting with Phantasy Star Online and going all the way into the current Online 2 from Universe, there have always been a variety of character build options some used by NPCs and the like but even more so used by the players. Due to the existence of the "Skillet Set" weapons I've seen people model a character after Aunt Jemima. I've seen muscle bound women who are 7 feet tall, I've seen little kid type characters. Even pudgy gnomish female CASTS (androids). There is roaming around in the ether of the net the PSO2 Character creator. I encourage many to go out there and use it for themselves. See what can be made with full physics in place. You will be surprised.
So what does this show us overall? Like every other time I've done this, it shows ultimately that the representation is there. Not only that but it's easy to find women of all types in video games. Do you want androgynous? Check! Do you want a brawny girl that makes you question your sexuality? Check! Do you want a loli type that will make people put you on a pedo watchlist? Check. Do you want a big breasted fat girl? Well, you might not but I don't mind taking a peek at that Rule 34 every now and again. Now before I go and calm down my wife about me looking at some fat girls, next time we do our last bit on mentoring. Please remember to Game Freely!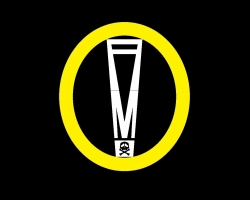 Latest posts by Alex Tinsley
(see all)





by