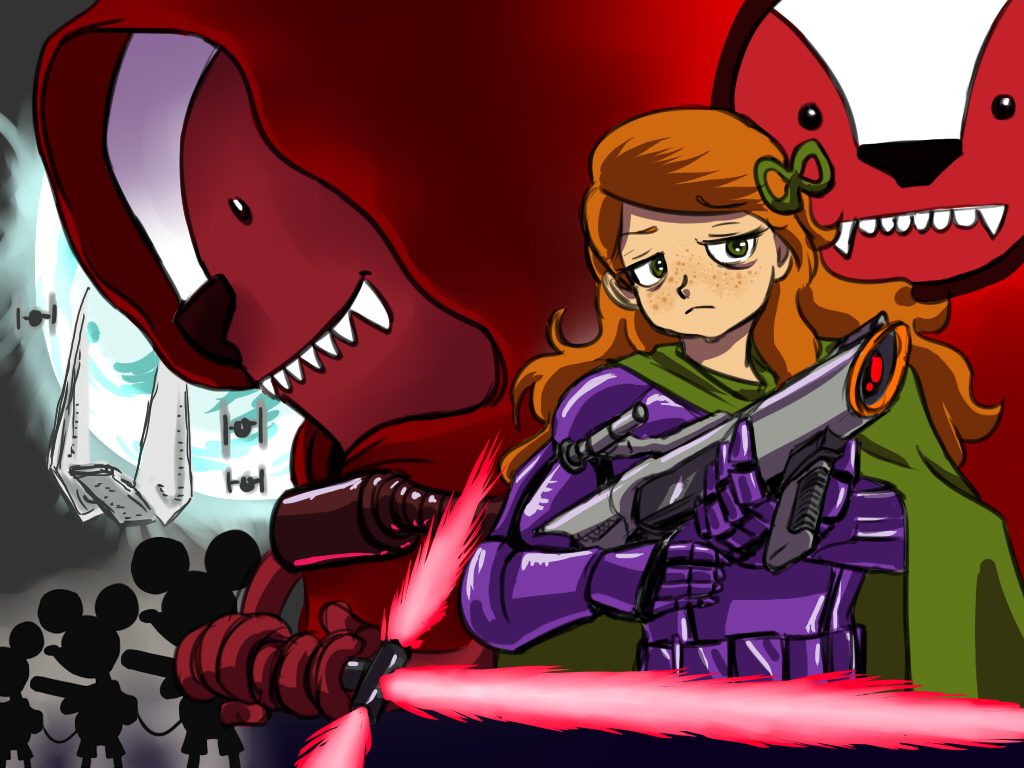 ---

Part time student, part time concierge and full time illustrator all wrapped up in one creative package. Looking for opportunities to use my aptitudes, talents and competence to serve a worthy company, or start my own. Dude. Roots in Chicago. Thinker and go-getter.

Latest posts by Brian Martinez (see all)
---
TPP is gone! Abortions blocked? D&D for Dames? Boycott of M. Night's new film? WHAT A TWEEST! Join us on the Polecat tonight @6pm Eastern!
---
DIRECT DOWNLOAD
---
What a Tweest!
By Mike J.
Once famous, now infamous, director M. Night Shyamalan is back in the public eye with a new film that's stirring up controversy, though it's not the controversy one might expect. M. Night's newest film isn't making waves for being a poor movie, quite the opposite from most accounts, but in a twist that M. Night himself might even appreciate it's causing concern over it's portrayal of mental health issues, specifically dissociative identity disorder. The movie, Split, follows a mentally ill man with multiple personality disorder who kidnaps three young women, forcing them to deal with his various personalities in order to escape. Critics of the film claim it will only serve to foster hatred and further stigmatize those with mental illness. As if that wasn't enough, certain detractors of the film have put a progressive spin on their criticism claiming transphobia due to one of the main characters personalities being female and wearing a dress. All the outrage has sparked a petition to boycott the film which is currently sitting at over 21,000 signatures and rising.
Source: http://heatst.com/culture-wars/people-are-calling-for-a-boycott-of-m-night-shyamalans-split-over-gross-portrayal-of-mental-illness/
Safe Spaces for Female D&D Enthusiasts 
By Max Derrat
A woman named Kim Hidalgo, has founded an all-female campaign for the tabletop role-playing game, Dungeons and Dragons. The purpose behind this campaign is to challenge the quote-unquote "perception" of who the game is "for". According to Jeremy Crawford, lead designer and managing editor of Dungeons and Dragons, he believes that, quote, "There has often been a perception that such games are for straight white men." To that, we at Honey Badger Radio and our collective audience of roughly 30,000 would like to say: "YEAH… because of people like you,"
The aforementioned Kim Hidalgo, echoes and expands upon Crawford's sentiments. Quote: "Maybe it's male-dominated because that's how it started and people continue the gender norm. Like why female babies wear pink. There's nothing innately feminine about the color. There's nothing innately masculine about D&D." Well, you might want to ask yourself why, when you have the progressive Crawford heading D&D, that it's only now that a quarter of the game's designers are women? Where are all the female enthusiasts?
Hidalgo has created an exclusively female group for female D&D enthusiasts to play in where they don't get to feel "ridiculous" and can enforce the gender binary they despise by being, quote "typical females in that (they) like costumes and make-up". The article on Hidalgo's campaign, published in LA Weekly, goes on to justify the necessity of safe spaces by citing one particular event. Anybody want to take a guess as to what that is?
The article concludes with a few of the following sentences. Quote: "In this brave new terrain of socially accepted chauvinism, validated by Trump's political victory, the fierce females of Girls Guts Glory strive to be as heroic in real life as they are while role-playing." Good luck translating that strength into something that doesn't involve, quote "show(ing) up in sweats, drink(ing) wine, eat(ing) pizza, do(ing) weird voices and just nerd(ing) out together."
Source: http://archive.is/2Yr3p
Donald Trump Signs an Abortion-Limiting Executive Order
Max Derrat
I think it's fair to say, for anybody who has investigated the issue of abortion, that it is one of the grayest possible issues in respect to politics and morality… unless you're the Huffington Post.
Yesterday, Donald Trump signed three executive orders… one of which was a reinstatement of the global gag rule, first put into place by Ronald Reagan in 1984. The basis of the bill prohibits giving U.S. funding to international nongovernmental organizations that offer or advise on a wide range of family planning and reproductive health options… but ONLY if they include abortion.
Interestingly enough, though… the Huffington Post claims that none of the $600 million that goes to financing family planning is spent on abortion services. Apparently, the Helms amendment has prevented that money from funding abortions internationally since 1973. But proponents of the global gag rule argue that the Helms amendment isn't strong enough on its own. The key problem with this article isn't necessarily because it's biased on the issue of abortion. Based on what I have read on the subject, I'd probably be leaning towards decrying this executive order. Rather, it's how this article starts and how it ends. The first sentence of this article reads as follows:
"On Monday, surrounded by other white men, President Donald Trump signed an anti-abortion executive order…" The final sentence of this article reads as follows:
"Trump's Cabinet is more white and more male than any president's first Cabinet since Reagan." Before I throw this to the Badgers to screech like I want to over these two questions:
1. What are your thoughts on the executive order, and
2. Do one's thoughts and actions over the issue of abortion have anything to do with one's race or gender?
Source: http://www.huffingtonpost.com/entry/donald-trump-abortion-men_us_5886369be4b0e3a7356a7910
The Social Soap Opera
By Stapler
This complicated story is of a University sexual assault case that reads like a social justice warrior soap opera. It's based upon a well-researched Bridge article by Laura Berman, and the same fake names of victim and accused will be used.
Two students met at a Michigan state university group for men supportive of feminism, Nathan and Melanie. When the school term ended, the students returned to their parent's homes in separate towns, but not long after planned to meet with explicit sexual intentions.
On Memorial Day weekend 2014 they had consensual sex in a car, but a passerby interrupted them. This upset Melanie. A few hours later, after a meal with friends and talking one on one, Nathan attempted to resume sex by reaching under her shirt to touch her breasts. Melanie asked him to stop and he did.
The next day Melanie texted Nathan, saying "we went too far" and that it would be best if they were no more than just friends. In September 2014, they arrived back on campus and avoided speaking to each other even though they shared a class.
The following September MSU created a new Office of Institutional Equity to investigate all claims of harassment and discrimination and twenty-five days later, Melanie complained of being assaulted to a residence hall adviser and was interviewed by a senior investigator at the newly-created Office. The one time non-consensual touching became the crux of the MSU sexual misconduct case.
The MSU's reports were full of errors and at one point had a claim that made the "assault" seem more egregious than is was. Their decision was that Nathan violated their policy on relationship violence and sexual misconduct but the investigators report made an error on when it occurred. They later identified their mistake and that their new policy didn't exist at the time of the incident. MSU revised its analysis under the old sexual harassment policy- adding that Nathan had "pushed" Melanie down. Melanie and Nathan agree university's finding was incorrect, he did not push her and the account has since been removed in the final report.
When Nathan and Melanie first began their sexual relationship back in October 2013, Nathan was a self-described virgin and it was Melanie who initiated sex. While she longed for more closeness, Nathan declined to call her his girlfriend, complaining to his friends that she belittled and bullied him.
Nathan has little to no hope for reversing sanctions on the university level since he has been marked as a sexual offender for touching a lover's breast after what was mutually agreed upon as consensual sex, miles from campus and without any accusations of violence, intimidation or stalking.
Deborah Gordon, the lawyer representing Nathan calls the case beyond ridiculous. She views herself as a feminist but points out that the universities are shortchanging the protections and rights that should be afforded to the accused in an over-correction of campus rape culture.
In May, 2015 Melanie began to transition into a man, changing her name, taking testosterone and publicly embracing a male identity. In an interview with Bridge, Melanie said "I suppose transitioning was one of the driving elements for why I reported, because I felt uncomfortable using the men's restrooms in my residential college, for fear that I would encounter him."
After months of costly appeals, Nathan has been found to have violated MSU's sexual harassment policy. He can receive his diploma but a school-imposed order bans him from contact from the person whom he hasn't spoken to in more than two years. His mother says Nathan has not dated since the incident and that he's anxious and depressed. Nathan's lawyer says "It's like being on the state sex registry because it doesn't go away. It's a stigma that will continue to haunt him and already has."
Source: http://bridgemi.com/2017/01/sex-assault-and-the-college-male/
TPP… You're Fired.
By Stapler
Trump has abandoned the Trans-Pacific Partnership (TPP).
Although it has not been approved by congress, Trump's decision has doomed Obama's signature trade achievement. In reversing TPP and only signing trade deals with individual allies, Trump hopes to protect American workers from low-wage countries like Vietnam.
Obama negotiated the trade pact eight years ago but never submitted the final agreement for approval amid vocal opposition. Obama argued that it benefited the US by opening markets while giving up little in return- and brought US and japan, the world's largest and third largest economies, together in a free-trade pact.
There are fears of China filling the vacuum as America looks inward. Senator John McCain said, "It will send a troubling signal of American disengagement in the Asia-Pacific region at a time we can least afford it."
There is speculation on Trump being as quick to renegotiate the North American Free Trade Agreement (NAFTA) as he is scheduling meeting with leaders of Canada and Mexico. Critics of NAFTA blame the trade deal for lost jobs and lower wages.
However, free-trade advocates say cancelling TPP, Trump lost an agreement already renegotiated NAFTA under more modern rules governing intellectual property, internet access and agriculture.
Trump has also ordered a freeze on federal government hiring and reinstituted a ban on federal funding of overseas family planning groups that assist women seeking abortions. After meeting with congressional, labor and business leaders he promised to cut up to 75% of federal regulations.
Source: https://www.nytimes.com/2017/01/23/us/politics/tpp-trump-trade-nafta.html?_r=0
Bonus story: http://elitedaily.com/dating/hate-all-men-because-of-trump/1760258/